Mealtime is a whole lot easier when you don't need dozens of ingredients to put together a well-balanced dinner. And when you're low on groceries and energy, three-ingredient chicken recipes will surely come in handy.
In most cases, if you've got chicken on hand, you can whip up a three-ingredient chicken recipe without hitting the grocery store. We consider it an opportunity to get creative and use what's already in our pantry and fridge.
Most of the recipes we chose don't count spices in the total number of three ingredients because these are optional and can be added according to your tastes and preferences.
To help give you some meal inspo, we tapped two registered dietitians for their input on quick chicken recipes that will save you from splurging money (and calories) on takeout.
1. Barbecue Chicken Stuffed Sweet Potatoes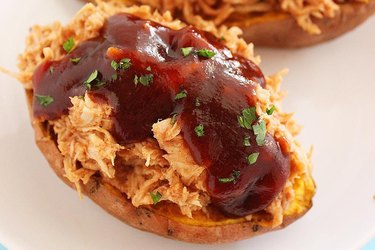 "These sweet potato boats are a great start to a meal, but you'd be wise to fill the rest of your plate with greens," suggests Nicole Rodriguez, RDN. If you're not a fan of sweet potatoes, consider swapping for white potatoes that are an "excellent source of vitamin C and one of the most affordable sources of potassium."
2. Pretzel Crusted Chicken Bites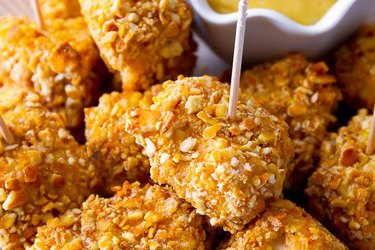 To lower the calories in this dish, consider using non-stick cooking spray instead of oil, suggests Rodriguez. Coated in pretzels that become delightfully toasted, these oven-baked nuggets are a real treat.
Either dip these chicken bites into your favorite dipping sauce like honey mustard or eat them on top of a salad.
3. Crock-Pot Salsa Chicken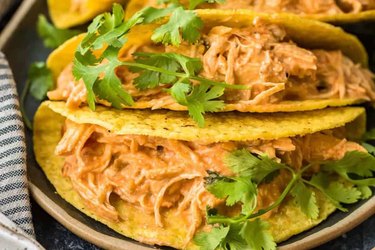 This chicken recipe calls for cream cheese, which offers a creamy texture and tart flavor, along with more protein. "And if you're a fan of spice, try adding a tablespoon of adobo sauce," Rodriguez says.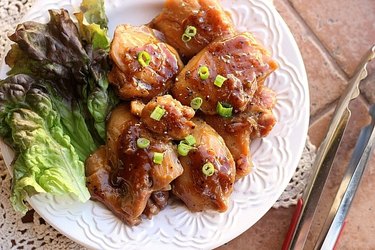 "Fruit juice is not just for sipping," Rodriguez says. "This is a great way to get some fruit into a meal and a deep, sweet taste without added sugars." Feel free to swap the chicken thighs for breast if you're looking for a leaner meat option.
5. Instant Pot Chicken Tenders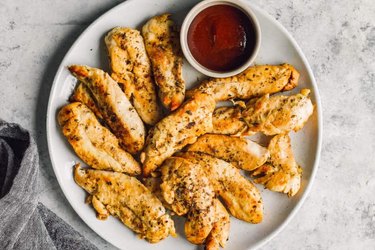 This recipe can be made into a three-ingredient recipe if you use a packet of garlic and herb spice mix, instead of using different seasonings. The only other ingredients you'll need are your chicken and some broth.
"Because these chicken tenders are cooked in the Instant Pot instead of a deep fryer, they contain less fat and cholesterol than the traditional chicken tender recipe," Andrea Mathis, RDN, says.
These tenders make a great meal prep recipe. Serve them alongside veggies or in pasta dishes and sandwiches.
Picky eaters won't be able to tell the difference in these baked nuggets. "They are dipped in tapioca flour, which makes them a great gluten-free alternative to chicken nuggets coated in white flour," Mathis suggests.
7. 3-Ingredient Slow Cooker Chicken Tacos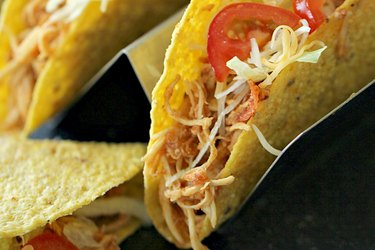 Adding this slow cooker meal to your next Taco Tuesday menu makes meal prep a breeze. "While the recipe calls for taco seasoning, you can reduce the sodium content by making your own using equal parts cumin, chili powder and cayenne," Rodriguez says.
8. Slow Cooker Barbecue Chicken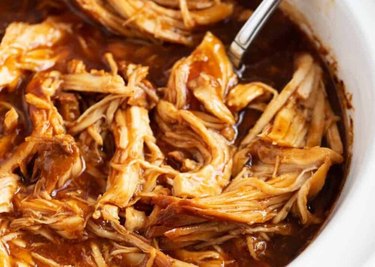 Mathis says this pulled chicken recipe is a more nutritious alternative to pulled pork and has about 40 percent less sodium. You can serve this shredded barbecue chicken on a whole-wheat bun or atop a salad.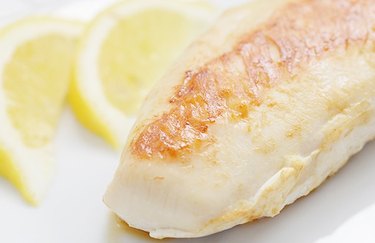 Snacking with protein-rich recipes like this one can help you sustain energy, Mathis says. "It provides 18 grams of protein per serving and no carbs, which is ideal for someone following a low-carb or keto diet."
10. Lighter Chicken Parmesan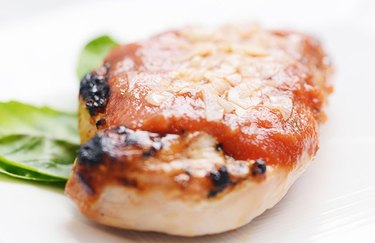 This recipe is made with a low-sodium marinara, so it only has about 190 milligrams per serving, Mathis says. "And adding olive oil provides chronic antioxidants, which have been linked with a lower risk of diseases."